Understanding the local booking flow is vital for any Hotel Property Management System (PMS) that is looking to enter Bali, or already has properties in Bali.
With over 27,000 rooms in starred hotels and another 54,000 rooms in non-starred accommodation, there are plenty of properties for guests to choose from. This also means a large market for your Property Management System to capture.
Understanding how the booking flow for a hotel in Bali works when using an online travel agency (OTA) will help you to:
Have a clear picture of the hotel booking market in Bali
Understand the challenges faced by the hotels using your PMS
See how offering an embedded payments solution can boost the guest experience for your hotels
OTAs that operate in Bali
The major OTAs all have a large footprint on the "Island of the Gods." Expedia and Booking.com and their sub-brands are heavily represented but there are local competitors with a different model. Companies such as Red Doorz, SpotOn, and OYO are disrupting the industry with their focus on the lower-budget side of the market.
These travel-tech companies are more than an OTA but not quite a hotel chain — they don't directly own the property. They do offer access to a wider market through easy-to-use mobile apps. Your PMS needs to start working with hotels before they migrate to these channels; while they're still independent.
Smaller properties are likely to use an OTA like Booking.com to connect with audiences quickly and increase room occupancy. Booking.com has a range of brands where properties will be listed, including:
Priceline.com
Agoda
Kayak.com
Cheapflights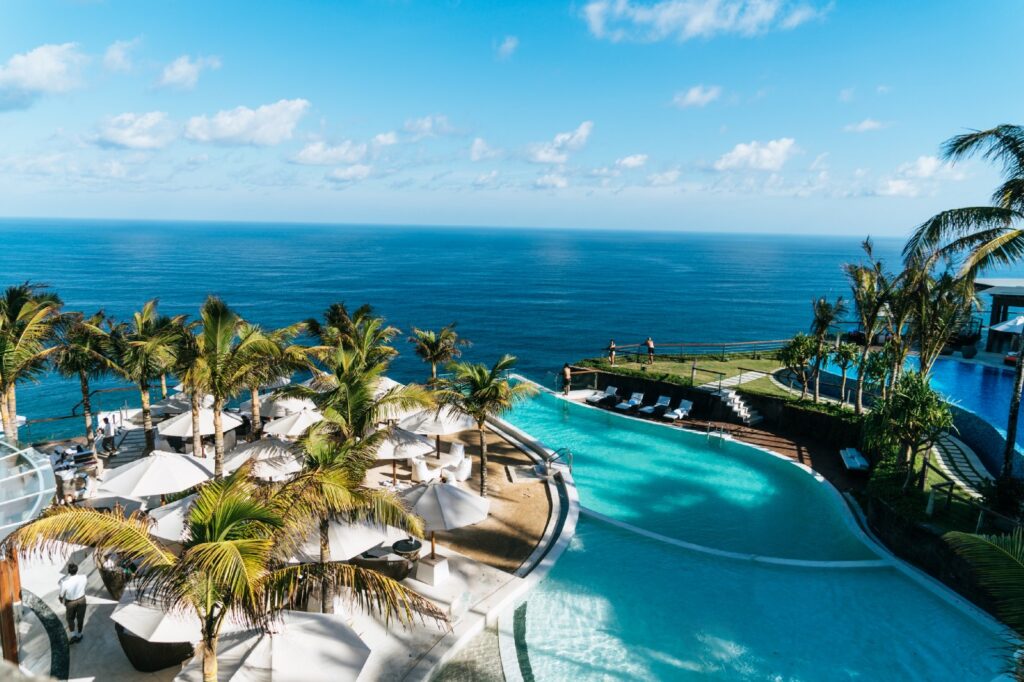 The booking flow for a hotel using Booking.com
It's reasonably easy for a hotel, guesthouse, kost (a local term for a boarding house in Indonesia), or villa to sign up for Booking.com. The property manager fills out a form, submits some details, and the listing goes live within a few days with the prices they ask for.
A guest can find, filter, and sort through their options and compare ratings, location, and prices.
Once the property is chosen, and the guest has made a payment, there are multiple ways for the hotel to receive its funds:
For some bookings with a cancellation period, or nonrefundable bookings, Booking.com can send the hotel a Virtual Credit Card (VCC)> The hotel can claim funds from the VCC after the cancellation period ends by processing the card on their POS terminal or virtual terminal
The guest can secure the payment with their card details but not be charged immediately. The card will be sent to the hotel, where the hotel will be able to charge in line with their booking terms and conditions.
The hotel can choose to have the guest pay on arrival through cash, a POS terminal using a chip and pin, a virtual terminal, or using a local e-wallet like OVO or GrabPay.
Once the payment options are dealt with, the hotel can receive an email and a notification on the Pulse for Booking.com Partners App if they use it.
If your PMS offers a Channel Manager (CM), room availability across all platforms gets updated. When there's no channel manager set up, the property manager needs to go into all other platforms and manually update room availability.
Improving the hotel booking flow with embedded payments
Embedded payments in your PMS can have a powerful effect on how rooms are booked at your properties.
Offering embedded payments with Kovena means your hotels can process the guest's cards or the Virtual Credit Card (VCC) that Booking.com sends over directly in their dashboard. These VCCs will be tokenised within your PMS dashboard once the guest has made that booking.
Your PMS can allow even smaller properties to process non-refundable stays, which reduces no-show rates and increases room occupancy.
Your hotels would make direct bookings a much more enticing option for your guests once they make a booking. Consumers are savvy to the high fees charged by OTAs and if they're looking for a boutique experience, may want to book direct.
Two of the most common Hotel Property Management Systems in Bali that offer embedded payments are BookandLink (Payku Payments) and Hotel Link Solutions (Hotel Link Pay).
Your accommodations can integrate embedded payments into their website and booking engine with a fully white labeled experience. The guest will have a seamless, secure booking and the property will keep much more of the total room rate.
All card details are stored in Kovena's PCI Travel Vault, tokenized, and accessed by the hotel only when a payment is needed. Issues around online security and fraud are all but negated and there is no trail of emails between the OTA and the hotel to keep track of.
Chargebacks are a major issue faced by hotels that take card payments. They can be reduced when using embedded payments. With Kovena's chargeback technology, guests will receive an accurate description on their bank statement with the property name, rather than your PMS or a holding company which can help massively reduce disputes.
Property Management Systems also have the ability to trigger emails after charges are processed reminding guests that their booking has been successfully charged.
Changing the Hotel Booking Flow in Bali with Kovena
From treehouses in Ubud, spas in Lovina, and surf camps in Uluwatu, the landscape of tourism in Bali is diverse. Your PMS can help hotels capture more of the market by offering embedded payments.
Want to know how you can offer all these benefits to the properties you work with? Get in touch with Kovena today.