Series: Check-in & On-site Micro Report
This article is a section of a series geared toward helping hotel businesses in the Pacific Islands streamline their check-in and on-site processes. The data and insights are derived from the 
Check-in & On-site Micro Report (Pacific Islands)
, a free report for hotels, produced by Kovena. 
A no-show is a customer who has made a reservation but never shows up, resulting in lost revenue. No-shows can be one of the biggest headaches for hoteliers. They affect a hotel's overall occupancy rates and general bottom line. Hotels from all over the world experience this dilemma, but in this article, we're going to look at how no-shows affect the hotels in the Pacific Region and what can be done to mitigate the problem.
No-shows in the Pacific Islands
Hotels in the Pacific lose, on average, $137K annually due to no-shows. With an average no-show rate of 8% in the Pacific Islands, there is a direct effect on occupancy rates and financial forecasting.  If a hotel has a no-show from a guest, not only does the hotel lose the revenue from that booking if they are unable to charge the guest, but the hotel also loses the opportunity to book another guest into that room who would have paid.
Upon guest arrival, 54% of hotels in the region still use manual payment processing, such as manually entering details into a POS terminal. Properties that do not secure a guest's card details before arrival miss out on no-show revenue. Once a guest has booked, the next guest touch-point is often at arrival… or not at all.
While pre-authorisations mainly verify that the guest has funds on their card and enable a hold for up to 7 days, Kovena can allow hotels in the Pacific region to actually charge a guest's card before arrival. With the booking terms and conditions a hotel has enforced, they can create a charge and take control of how payments are made even before a guest arrives. This way, whether the guest shows up or not, revenue is guaranteed as hoteliers can charge a guest's booking that aligns with their booking t&c's.
The hotel can also craft its own cancellation policy- it could be in the form of vouchers that guests can use for future stays at the hotel, or enforce a non-refundable cancellation policy.
Hotels and PMS's can use an embedded payments solution like Kovena to tap into its useful features and take card payments before the arrival of guests with Kovena's feature set. Contact us if you want to learn more today.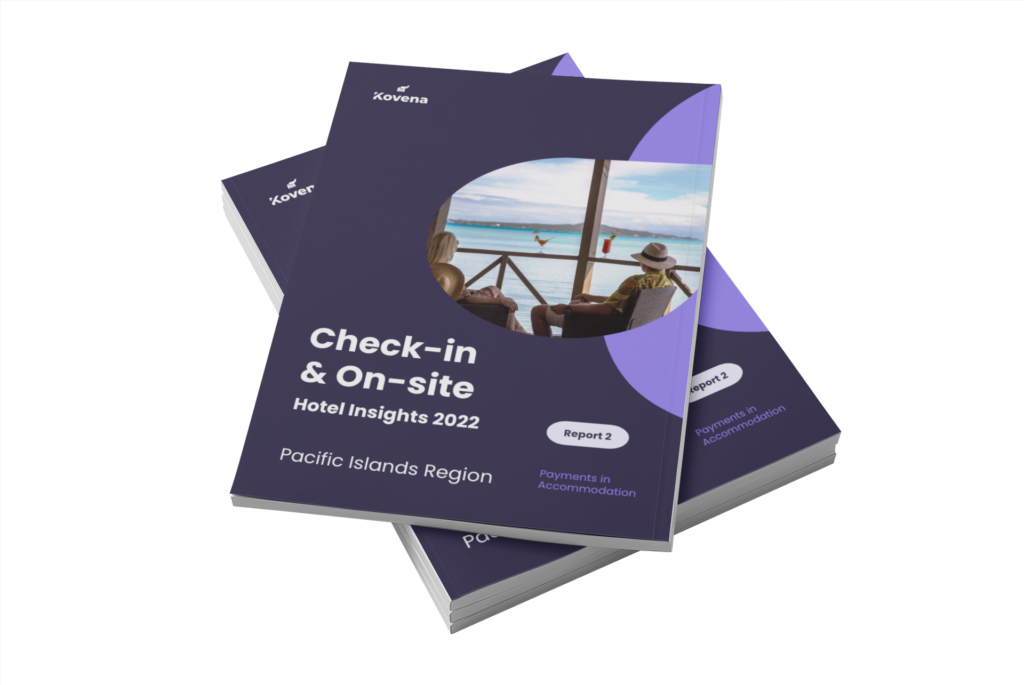 Micro Reports will be released each quarter with data derived from the Pacific Islands Hotel Insights 2022 Report, and will be free to access.
The insights and data in the Check-in & On-site Micro Report (Pacific Islands) have been extracted from the full 40-page Pacific Islands Hotel Insights 2022 Report (access here).
Want to learn more about optimising your hotel booking process? Download our Micro Report below.
Kovena. Seamless payments for Pacific Island Hoteliers.
Download the Check-in & On-site Micro Report (Pacific Islands) now.
With over 130+ responses from Pacific Island accommodations
Key insights on how to reduce risk when taking guest payments
Understand how accommodations are taking guest payments in the Pacific Islands