Series: Check-in & On-site Micro Report
This post is a part of a series set to help Pacific Island hotels by giving them actionable tips for streamlining their check-in and on-site processes. The key information and insights are derived from the Check-in & On-site Micro Report (Pacific Islands), a free report for the hotel industry, brought to you by Kovena.
Non-room revenue in the Pacific Islands
41% of hotel revenue in the Pacific Islands is generated by on-site spend. Furthermore, 67% of hoteliers globally believe that non-room revenue will play an important role in their future income streams.
Non-room revenue refers to the money that hotel guests spend on things other than their hotel rooms, such as food, beverages, activities, and retail items. In the Pacific Islands, non-room revenue can be a significant source of income for hotels, as many guests are looking to experience the local culture and cuisine while they are on vacation.
To increase non-room revenue in the Pacific Islands, hotels can offer a variety of dining options, including local cuisine, as well as activities and excursions that allow guests to explore the islands and experience the local culture. Hoteliers can also offer retail items, such as souvenirs and local handicrafts, for guests to purchase. Additionally, providing concierge services and make recommendations for nearby attractions and activities that guests can enjoy during their stay. Offering a wide range of amenities and services encourages guests to spend more money at the hotel and boosts non-room revenue.
The role of Guest Apps for increasing hotel guest spending
A Guest App can help hotels capture more on-site spending. Guest Apps are mobile applications that are designed to provide hotel guests with information and services during their stay. These apps can be a valuable tool for increasing guest spending at a hotel as they can provide guests with easy access to information about the hotel's amenities and services, as well as nearby attractions and activities.
Additionally, Guest Apps can be used to promote special offers and discounts to guests, encouraging them to take advantage of the hotel's amenities and services and boosting their spending. By offering a user-friendly Guest App, hotels can make it easy to upsell, offer guests information and services, and encourage them to spend more money during their stay.
Unfortunately, 84% of Pacific Island hotels do not have a Guest App to enhance their guest experience. More guests want a digital experience and more hoteliers are positioning themselves to meet this demand ever since COVID-19 erupted a few years back. Bringing in an embedded payment solution within a hotel's tech stack – or moving to a new one, will help support hotel businesses well into the future. 
Being able to process cards is integral to a smooth stay for guests. 64% of American Gen Z travellers use a debit or credit card when travelling. They are then more likely to use a credit or debit card within a consumer app to engage with and purchase add-ons to their hotel stay.
Embedded payment solutions like Kovena can really be a game-changer for hoteliers in the Pacific Islands. Kovena, in particular, offers a whole suite of strong features and functionalities catered towards hotels, globally. Kovena enables better security with PCI Compliance, scalability with multi-currency payments, and a great way to manage hotel payments and charge guests before arrival directly from the PMS or Booking Engine extranet.
Looking to learn more about increasing hotel guest spending in the Pacific Islands or globally? Contact us to explore more resources and tap into Kovena's hotel solutions.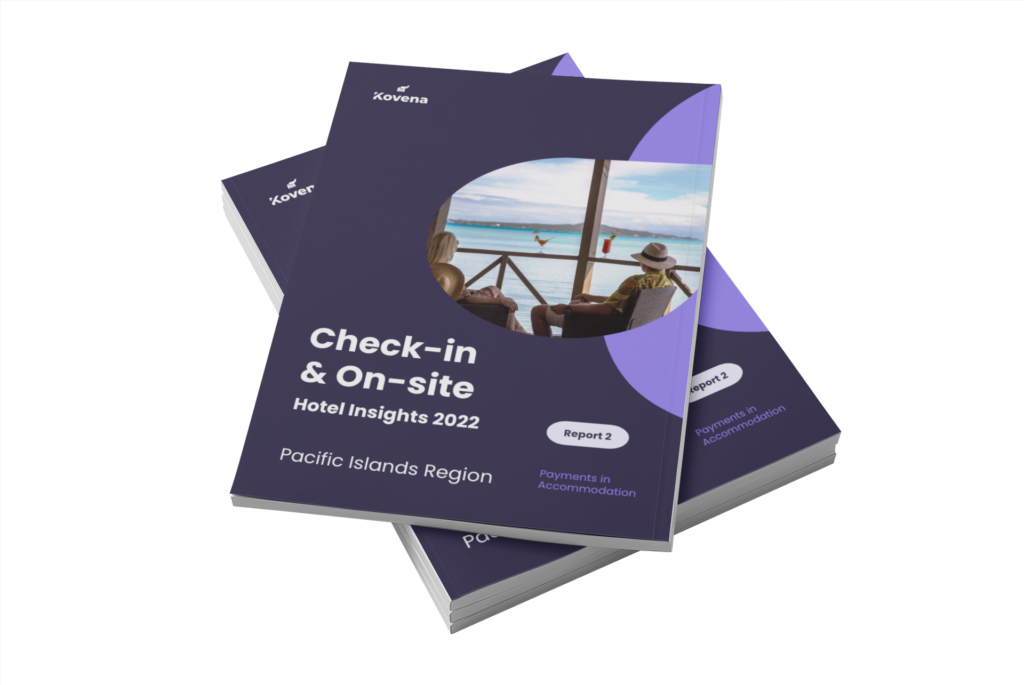 Kovena releases quarterly micro reports, derived from the Pacific Islands Hotel Insights 2022 Report. These insightful resources are all accessible for free.
The information and insights in the Check-in & On-site Micro Report (Pacific Islands) are derived from the 40-page Pacific Islands Hotel Insights 2022 Report (access here).
Want to  access comprehensive data on optimising your hotel processes? Download our Micro Report below.
Kovena. Seamless payments for Pacific Island Hoteliers.
Download the Check-in & On-site Micro Report (Pacific Islands).
More than 130 respondents from Pacific Island accommodations
Key insights on improving guest experience and enhancing their stay
Tips on how to increase non-room revenue and drive more hotel profits
Access the Full 40-page report